Round 30mm LED Piont Light 12V Digital RGB LED Pixel WS2811 LED String Lights
Delivery term:The date of payment from buyers deliver within days
Price:

Negotiable

minimum:

Total supply:

Delivery term:

The date of payment from buyers deliver within days

seat:

Guangdong

Validity to:

Long-term effective

Last update:

2017-11-04 00:15

Browse the number:

393
Send an inquiries
Company Profile
3Cinno Group Co.,Ltd

By certification [File Integrity]
Contact:

sansinuo(Mr.)

Email:

Telephone:

Phone:

Area:

Guangdong

Address:

B 421, Tianhui Building, Donghuan 1st Road, Longhua New District, Shenzhen, China.
Product details
Round 30mm LED Piont Light 12V Digital RGB LED Pixel WS2811 LED String lights has high brightness, low power consumption, long life, low voltage, rich colors, etc. Products can achieve effect of flowing water, chase,scanning, etc. Depending on the installation, but it was a composition change different color characters, design, etc. Various kinds of dynamic effect. 30mm diameter, long lifespan more than 50000 hours, energy efficient, major reduction in power costs, easily installation, high visual impact and excellent brightness, channel letter back lighting, spurts draws light, advertisement sign light, indoor and outdoor illumination, architectural decorative lighting.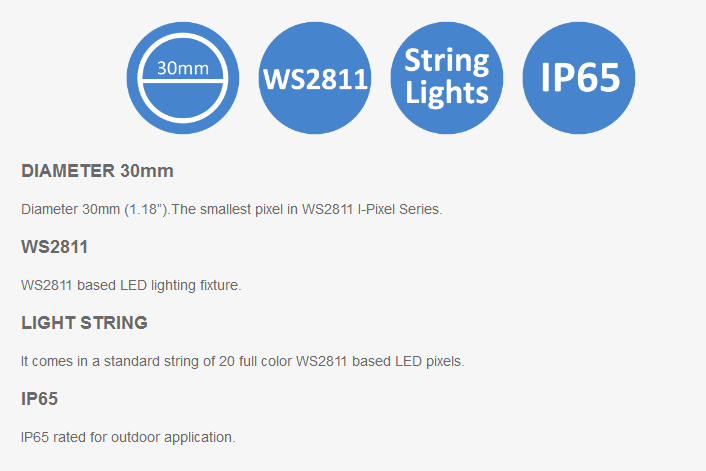 Round 30mm LED Piont Light 12V Digital RGB LED Pixel WS2811 LED String Lights
  3C-WS-D30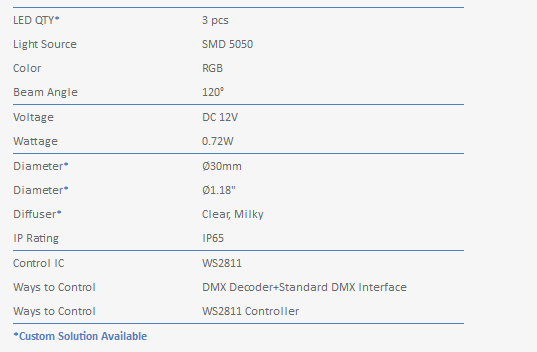 FAQ:

1. What's the custom solution for this product?

   Cover/Length can be customized. 

2. What's the application of this product?

   Channel Letter Back Lighting/Spurts Draws Light/Advertisement Sign Light/Architectural Decorative Lighting.

3. What effects can I get from this product?

   Products can achieve effect of flowing water, chase,scanning,etc.

4. What's the unique feature of this product?

   Diameter 30mm/WS2811/String Lights/IP65